Most of the donor eyes from AMD subjects show the very late stages of the disease. Often, the macular region cannot be sampled because of the high level of scar tissue. Nevertheless, peripheral samples can be easily obtained. It should be noted (from previous discussion) that the changes expected in macular regions are likely to be more severe than in the periphery. The changes in hydraulic conductivity (fluid transport) in the peripheral regions of AMD donors are given on the image.
Data points for AMD donors are shown in red. Thus, even in the periphery, AMD donors show a much steeper decline in fluid transport reaching failure thresholds much earlier in life. Because of the faster changes in macular regions, reduction in fluid transport is expected to be much severe.
When the hydraulic conductivity reaches the failure threshold, the fluid pumped out by the RPE cannot be transported out rapidly by Bruch's membrane. The fluid then accumulates on top of Bruch's forcing a RPE-retinal detachment, as shown in the OCT image below. In such a detachment, the distance between Bruch's and the RPE is increased, lowering the diffusional gradients for effective transport of nutrients. If untreated, such a detachment can lead to the death of RPE and photoreceptors. Nearly 20% of AMD patients show these RPE detachments.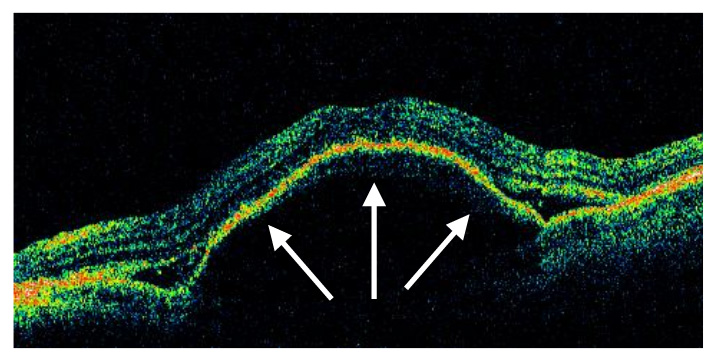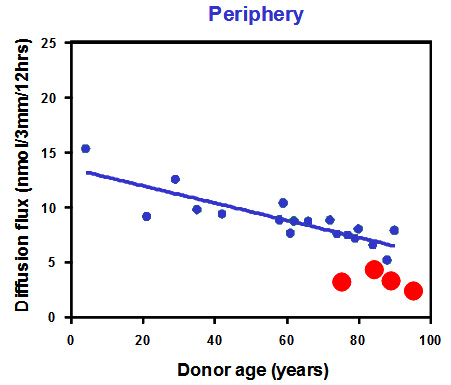 The diffusion of carrier sized proteins is also reduced in AMD donors (figure above, right). The decrease in diffusion capacity observed in the periphery of AMD donors is expected to be much severe in macular regions. The inefficient delivery of essential metals, vitamins, and lipids will severely compromise the viability of RPE and photoreceptors. Heavy metals play a key role in the anti-oxidant machinery of photoreceptors and a reduction will compromise their defence against oxidative damage. The deficiency in the delivery of vitamin A is reflected in compromised scotopic (low light level) vision. Again, delivery of essential unsaturated lipids is essential for synthesis of outer segment discs. These reductions in the delivery of essential nutrients is the initial insult that progresses to the death of RPE and photoreceptors of the retina.